The system control two axes, one axis is controlled by MITSUBISHI inverter for back gauge positioning, other one is controlled by MITSUBISHI inverter for pressing angle, the system compute the stroke of cylinder and the value of Y axis automatically according to the programmed angle, the thickness (T), materials (M) and length (L) of work piece and opening width of bottom die (V). the system can memorize 100 programs maximum, and every program can have 20 steps, each step can be programmed 999 bending. The CNC system is very convenient, it includes manual mode, single cycle mode and automatic mode, the operator can select different mode to complete the bending operation automatically.

DA-41system
Compact solution for conventional press brake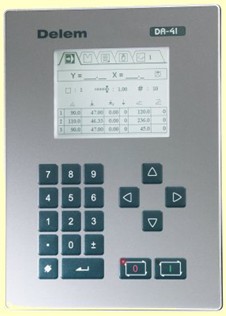 The DA-41 control provides a complete solution for conventional press brake applications for 2 axes. The axes control supports servo control, 2-speed AC control as well as unipolar control.
With its bright LCD display a clear and easy control is offered. The numerical programming, with angle and tool parameters, can be done in a clear table overview.
Main Technical Specifications
• LCD display, 4.7" monochrome
• Memory capacity: 100 programs
• TTL encoder interface
• flexible I/O configuration

DA-51system
Compact 4 axes CNC system for press brake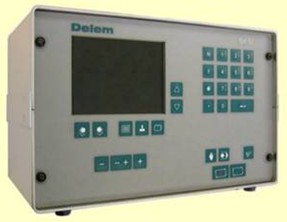 The DA-51 offers all basic CNC control functions upto 4 axes and angle programming of the Y axis. The bright LCD display including backlight and the modern front panel layout guarantee a very user-friendly and easy to program controller.
For part programming it provides the user programming space for 500 program lines where each program can contain 25 bends maximum. All bend parameters of one bend are listed on one page.
For each program there is one extra page available to specify a.o. tooling, material properties and stock count.
The basic machine control functions are Y1-Y2-X axis, optionally a second servo axis to be used as R/Z or X2 axis control and/or a 3 position pneumatic R axis control.
The CNC control is able to drive a crowning device.
The compact control gives highly flexible mounting possibilities and is pin compatible to the graphical programming unit type DA-51.
Main Technical Specifications
• LCD display 320x240 pixel
• Memory capacity:
500 program lines with 25 bends max. per program
• Tool library
• Product counter
• Bend repetition, 99 max.

DA-56system
2D graphical CNC system for hydraulic press brakes with CNC postprocessing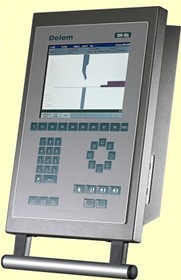 The graphical programming, bend sequence computation and 2D simulation provide a user-friendly and fast programmable CNC for press brakes ever built.

Programming the Delem DA-56 is simply drawing the profile of your product on the screen. Simulation of the bend sequence is done with the userfriendly bend determination tool. With one simple keystroke, the CNC program is calculated and stored.
Many facilities are supported such as:
2D graphical programming.
Bend sequence determination
Crowning control
Servo, frequency invertor and AC control
USB interface for easy connection of external devices (keyboard, mouse, etc.)
Main Technical Specifications
Colour display 10" TFT
2D Graphical CNC system
PLC functions
Operator warning system

DA-65W
Slimline CNC system for hydraulic press brakes with
2D graphical product programming and CNC production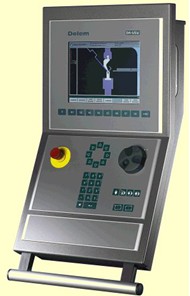 The DA-65W is a user-friendly and fast programmable CNC control for press brakes.
The Delem DA-65W can be progammed by simply drawing the profile of your product on the screen. With the help of the 2D simulation view you can calculate the optimum bending sequence and view how to place your product in the machine.
Many facilities are supported such as:
2D product programming.
Real-time Windows system for multitasking and file management.
Instant shut off for easy power-down and start-up of the control.
Optional easy Windows Networking.
USB interface for easy connection of external devices (keyboard, mouse, etc.)
Main Technical Specifications
Colour display 10" LCD (TFT)
2D Graphical CNC
PLC functions
Slimline housing
Basic Windows Application suite

DA-69W
2D/3D graphical CNC system for hydraulic press brakes with fully automatic bend sequence computation and CNC production computation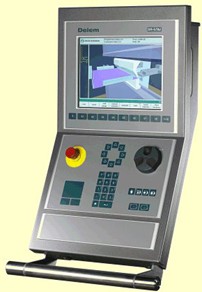 The graphical programming, bend sequence computation and 2D and 3D simulation provide a user-friendly and fast programmable CNC for press brakes ever built.
Programming the Delem DA-69W is simply drawing the profile of your product on the screen.
The bend expert program automatically calculates the optimum bending sequence in 2D. You can also program a product in 3D and program its production cycle grafically.
Many facilities are supported such as:
Error message system and help texts to warn you for faulty programming, operation errors and machine failures. This saves a lot of time finding out what is wrong.
Real-time Windows system for multitasking and file management.
Standard Ethernet interface for easy Windows Networking.
USB interface for easy connection of external devices (keyboard, mouse, etc.)
Main Technical Specifications
Colour display 12" TFT
2D/3D Graphical CNC system
Automatic bend sequence
PLC functions
Operator warning system